Palm Bay, Florida
Current
John is a magician/balloon artist, performing in various local restaurants in the Brevard County area. He has be seen at Beef O'Brady's in Palm Bay, at Duffy's in Melbourne, at Chick-Fil-A on Palm Bay Road, and is seen every Friday night at El Chico's in Melbourne. John was the Balloon Artist for the Sterling Cruise Line from 2005 until they moved ports. John also does corporate and private parties across Brevard County. John is the current President of the Space Coast Magic Club and Former President of the Clown Smart Clown Alley. He currently is a member of the International Brotherhood of Magicians, the Society of American Magicians, Clowns of America and the World Clown Association. In 2011 John won 2nd place at the Florida State Magic Convention in walk-around magic and 2nd place as Magician of the Year at the Magic Dove Completion. John performed at the grand opening of Dick's Sporting Goods at Melbourne Square Mall, National City Bank in Viera and Viera Child Care in Viera. For the past twelve years he has done balloons and Magic for the Melbourne Arts Festival in Downtown Melbourne in April. His daughter, Jonna also does face-painting with him in restaurants, special events, and children's birthday parties.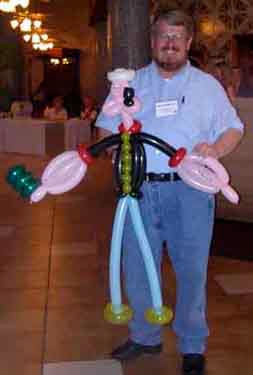 Recently, John Anderson has been awarded the exclusive rights to teach the Discover Magic educational program in the Brevard County area. This national program is specially designed to teach key life skills to 8-12 year olds through the process of learning to perform magic. The course was created by internationally-known, award winning, magician and educator Michael Ammar, and his creative team after nearly twenty years of research.
Background

John began doing magic in 1977. He taught himself a few "tricks" by reading an old magic book he had received from his dad during his boyhood. After practicing and working up a few "tricks" he booked himself doing walk around magic in a local restaurant in Columbus Georgia. Within a few months he had been asked to teach a magic course at Columbus College.
John started the magic clubs in Columbus and Savannah, Georgia by teaching a course in Magic at the local college and then starting a club with the students of the course. He and several magicians from Montgomery, Alabama started the club in Montgomery. John also became a member of Ring 9 in Atlanta. Meeting with other great magicians, attending conventions, and reading books on magic added to his skills as a magician. Over the years John has served as past president of Ring #188 and Assembly #198.
While in Georgia he worked with David Copperfield on "Project Magic". John wrote and produced mall shows throughout the Southeast using the Disney characters in Back to School programs for 6 years. He also put on magic shows, producing Santa in malls across the Southeast for over 10 years. John also was a clown for a major fast food chain for 9 years while still in Georgia.

Other Information of Interest
John has a bachelor degree from Columbus State and a master's degree in Music Education from the University of Southern Mississippi. He holds a current Florida teaching certificate in music. He taught music in the Brevard County school system for 11 years and was the minister of contemporary music at Suntree United Methodist Church for 15 years.
John currently works as a teacher for the Brevard County School System. John has passed the necessary state-mandated background checks for working with children.
M.A.D. Week (Music, Arts & Drama)
Let John lead your staff and volunteers in creating a week-long day-camp as part of your Vacation Bible School program. This fun-filled day-camp for children offers an opportunity to learn an entire musical, build sets, learn speaking parts and perform a complete musical production.
English Madrigal Feaste
Let John lead your staff and volunteers in creating a Christ based Christmas Dinner event to welcome in the Christmastide Season. Watch and listen to the acapella singers in their period costuming performing the christmas songs from the 1400 and 1500s.